Opportunities for Christian Education
"Get wisdom, get understanding; do not forget my words or swerve from them."
Prov. 4:5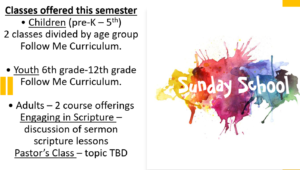 Sunday School 9:00 am-10:00 am (Sept. through May)
Classes are available for all ages and we welcome visitors.
Nursery through fifth graders, classes are located on the main level of our Education Wing. The nursery is the first room on the right.
The Middle School and High School class, for 6th through 12th graders. We meet in the CAVE.
Adult Sunday School – two classes are currently offered. 
Women's Bible Study
These popular Wednesday morning talks from the Bible given by Bea Heid attract women from the church and the community from September through May. The study, held in the chapel, begins at 10:30 am.
Vacation Bible School
From an action packed week for children ages 3 through 6th grade takes place from 9 am to 12 noon. Children sing fun songs, work on crafts, learn a Bible story, have a snack and participate in fun games.
W.D. Himmelreich Library
Completed in 1902, this library is a unique and special gift to the congregation and the greater community. It is open over 20 hours throughout the week and features 11,000 books, over 1,500 videos and DVDs, and more than 500 audio books that are a resource for the whole family. Join us Sunday afternoons from 2:00 – 3:15 for "Sunday Conversations" – a chance to have an in depth discussion on scientific thought and Biblical teachings that helps answers fundamental questions of the Christian faith.