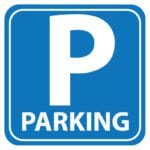 Looking for a place to park? Here are two suggestions:
1. There are 20 parking spaces behind the office of Larry Winans, DMD at 38 N. 2nd St. Turn right on Chestnut Tree Alley. The parking lot is on the left.
2. Adjacent to the parking lot for Coles Hardware Store is a municipal parking lot that requires a permit Monday through Friday. It is only a two minute walk down Cherry Alley to the church.
The parking behind the church belongs to the Masonic Lodge and we contract to use it on Sundays. Other days of the week they graciously allow us to use the lot. Please be respectful to their schedule of activities.