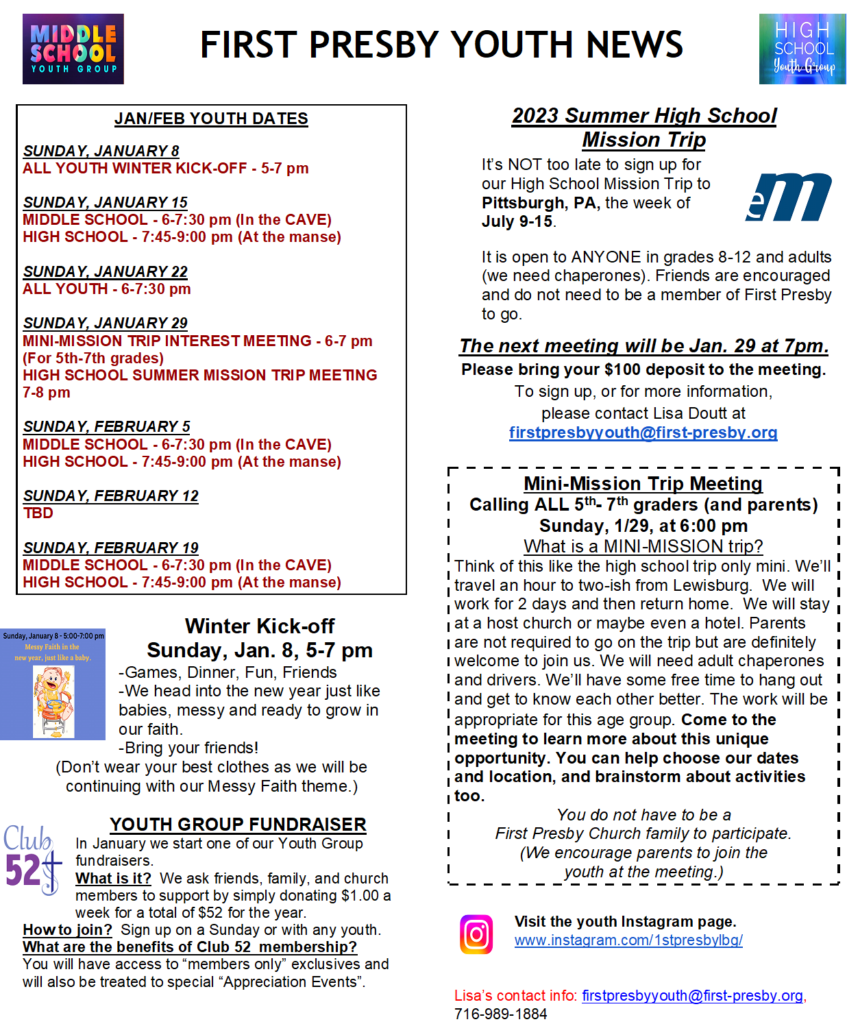 2023 Summer High School Mission Trip
WHO?       ALL 8th-12th graders and adult chaperones.
WHERE?  Pittsburgh, PA with Experience Mission
WHEN?    July 9-15, 2023
10 spots are reserved. 
$100 deposit will be due at the next meeting which is Jan. 29, 2023.
SIGN UP TODAY!
INVITE A FRIEND TO JOIN YOU!
Contact Lisa Doutt at [email protected]
Who we  are…The First Presby Youth Program is a Christian ministry program of the First Presbyterian Church in Lewisburg. We have programs for middle school and high school aged students.
 What  we  do…Weekly and monthly programs, mission projects and special events.  Sunday School classes during the school year, small groups, mission trips, weekend retreats, and much more!
What we  believe…The mission of the church is to live Fully in Christ through His word, community and mission. We believe that all youth should have a safe and welcoming place to hangout, learn about God, build friendships and  have mentoring opportunities.
Who can  be  involved…ANY middle school, high school or college age student!
Want more information? Contact us!   Office: 18 Market Street, Lewisburg   Phone: 570-524-4419
Find us on Instagram: @1stpresbylbg