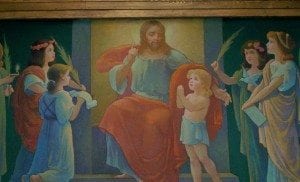 On the west side of the sanctuary building is the William D Himmelreich Memorial Library. The library has its roots as the Sunday School Library which began in 1831 with a collection of 85 books. In 1891 William D. Himmelreich a philanthropic Lewisburg businessman and active member of the church, purchased 500 volumes to form the nucleus of a library.
Mr. Himmelreich's Last Will and testament endowed the library with $15,000 for a building and $150,00 for books. The building with its majestic columns outside and beautiful murals inside, was dedicated eight years after Mr. Himmelreich's bequest, on November 7, 1902.
Today, The William D Himmelreich Memorial Library is a wonderful Christian resource center used by many in the community and surrounding areas. Home to more than 8,300 books, 1,500 videos and DVDs, and 700 cassette tapes and CD's, the library with its restored reading room is a wonderful place to visit and is a tribute to the generosity and faithfulness of Mr. Himmelreich.
Recently our librarian came upon a real historical find in the library cupboards.  The above is a hand drawn page with notes on what each cherub represents in the W. D. Himmelreich Library mural.
This mural was not done in time for the Library dedication on Nov. 7, 1901.  Mr. Frederick Martin was the artist, his work being seen by the Library architect Fred Dodge upon a visit to New York City.Mr. Himmelreich not only believed that good books are of utmost importance in helping boys and girls to grow up into worthy men and women, but he also felt that a library must be a collection of books radiating around the greatest of all books; the Bible.  These well-defined ideas are clearly and admirably presented through the idealized figures and symbols of Mr. Martin's mural paintings.  And as long as these mural paintings remain upon the walls, they will declare a message, voiced in other ways by Mr. Himmelreich.  These idealized figures, fittingly chosen and well-arranged, leave with one the clear impressions: That Jesus Christ is love and truth, source and inspiration of the Arts, Literature and Science; best friend and teacher of the child; graphically portrayed by the four gospel writers (one in each corner) that love and truth mark the highest goal of attainment in life; and that knowledge, to be of greatest worth, must be balanced on one side by industry and on the other by faith and religion. 1
1
First written by Charlotte Murphy on Nov. 19, 1951.