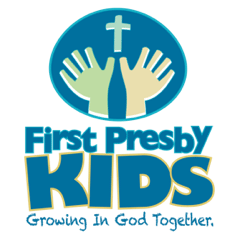 Children's Ministry at First Presbyterian Church serves children in our congregation and community from birth to 5th grade. It is our mission to help children and families strengthen their walk with Jesus while loving kids just the way God made them.
We serve our children in a variety of ways and rely on trusted, background checked adult volunteers to serve as teachers, nursery providers, and leaders.
Weekly on Sundays:
For our youngest members, birth through age 3, we offer loving nursery care during Sunday school and worship every week.
Sunday school classes for kids in Pre-K through 2nd grade, and 3rd through 5th grade run Labor Day to Memorial Day every week at 9 am.
During worship, children are invited to come to the front of the sanctuary for a Children's Message and then dismissed to Kids' Church for ages 4 through 3rd grade.
Family Sunday on the second Sunday of every month is an opportunity for all children to remain in the Sanctuary for the duration of the worship service. We do understand, however, that it can be challenging for some of our youngest members to participate in worship, and as such, our Library volunteers offer a story time for children age 4 through 2nd grade.
Monthly during the school year:
We host First Friday, a free program for kids age 3 through 5th grade in our church and community.
Various themes include game night, Operation Christmas Child shoebox night, Jesus' birthday party.
Dinner and dessert is served. Children will participate in games, activities and crafts.
Yearly during the summer:
We offer a free Vacation Bible School program during one week of the summer for kids age 3 through 5th grade
Adult and youth volunteers staff vacation bible school
Children participate in games, activities, crafts, singing and more!